White House to erect 'non-scalable' Fence – report
NBC White House correspondent reports, citing an unnamed federal law enforcement source, that starting on Monday 2 November, a "non-scalable" fence will be erected around the White House compound.
Here is what we know so far about the FBI confirming on Sunday that it was investigating the incident in which a convoy of vehicles flying flags in support of President Donald Trump's re-election bid surrounded a bus carrying campaign staff for Democratic challenger Joe Biden on a Texas highway.
"FBI San Antonio is aware of the incident and investigating," special agent Michelle Lee, a spokeswoman for the Federal Bureau of Investigation in San Antonio, told Reuters in an email. "No further information is available at this time."

Speaking about the incident on the campaign trail on Sunday in Philadelphia, Biden said: "We've never had anything like this. At least we've never had a president who thinks it's a good thing."
Neither Biden nor his running mate, Senator Kamala Harris, was aboard the bus. The Texas Tribune reported that its passengers included Democratic US House of Representatives candidate and former Texas state Senator Wendy Davis.
New Orleans' Democratic mayor and Louisiana's Republican secretary of state argued Sunday over who's responsible for providing generators if some polling places didn't have electricity on Election Day, AP reports, but by the end of the day it appeared all polling stations would have power.
Mayor LaToya Cantrell said Sunday that up to 11 precincts in the city could still be without power Tuesday, nearly a week after Hurricane Zeta took down power lines. She said Secretary of State Kyle Ardoin and his commissioner of elections, Sherri Wharton Hadskey, "are refusing to provide support for generators" for those precincts.
"In failing to fulfill its duty, the Secretary of State's office risks disenfranchising Orleans residents and threatens to suppress the vote," Cantrell said in a news release.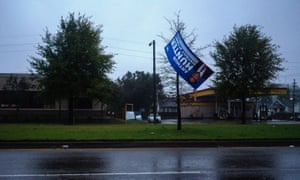 Ardoin responded in his own news release Sunday: "It is unfortunate that politicians like Mayor Cantrell … have responded to Hurricane Zeta by trying to score cheap political points instead of being part of any solution."
Cantrell said the Secretary of State's office "has taken the unprecedented position" that the city of New Orleans must use its employees and money to provide generators for polling places.
Ardoin issued a statement Saturday saying that Louisiana polling places without power would receive generators for Election Day, but it did not specify whether providing the generators would be a state or local responsibility. A spokesman for Ardoin's office did not immediately provide a response to questions about it from The Associated Press on Sunday.
Later Sunday, the city issued a statement saying that Energy New Orleans was now estimating that three polling stations could be without power Tuesday — down from the 11 earlier estimated. Portable generators and lighting for two of the locations was being provided by the Governor's Office of Homeland Security and Emergency Preparedness and the Secretary of State's Office, and Entergy New Orleans would provide the generator for the third site, the statement said. Entergy would transport and operate the generators provided by the state to the other two locations, the city said.
The city was expecting that all original polling places would be in operation come Tuesday.
New Yorker staff writer Jelani Cobb on Trump's response to the Biden bus incident:
According to the Covid Tracking Project, the US reported 74,000 new coronavirus cases on Sunday – 10,000 more than a week earlier.
Updated

"You people are going to vote mostly on election day?" says Trump to cheers from the crowd.
"That's called the red wave"
"This is going to be the most important election in my opinion because our country can never be a socialist country in my opinion."
He then promises to "mass distribute the vaccine in just a few short weeks". This vaccine does not yet exist.
Then he tells a bizarre story:
When his 14-year-old son Baron tested positive for coronavirus, he says, the doctor said he would be fine, because he is such a strong young man.
A few minutes later, Trump says, he asked how Baron was doing and the doctor said he was all better.
Trump is talking about the Hunter Biden laptop story.
"Adam Schiff says the laptop was created by Russia. We are so screwed up," says Trump.
Then he starts talking about his MAGA hat – which he's wearing because there's "a lotta wind". He had wanted to show off is hair, he says.
Updated

The Hill journalist John Kruzel reports that a federal judge has ordered that from Monday 2 November to Wednesday 4 Novemner, the US Postal Service must "provide daily updates on the alleged election mail backlog at the Miami-Dade Country Post Office":
Strategic National Stockpile 'runninng dangerously low' on gloves – reports
NBC News reports that the Trump administratuon is "woefully behind" when it comes to stockpiling gloves and that the country's Strategic National Stockpile – which is itself meant to the the country's last resport for the crucial personal protective equipment – is "running dangerously low":



[Health and Human Services] set a goal to have on hand a 90-day supply in the stockpile, or 4.5 billion gloves. But as of this week it had 2 million, according to department officials.

The department estimates the current demand to be at 8.7 billion a month, or 104 billion gloves per year.
Updated

Here are some photos of election night 1984, when Reagan won, in the USA Today newsroom:
Harris in Georgia: 'Honour the ancestors' by voting
Kamala Harris was in Georgia, a longtime Republican stronghold that Democrats believe could flip if Black voters show up in force.
She encouraged a racially diverse crowd in a rapidly growing Atlanta suburb to "honor the ancestors" by voting, invoking the memory of the late civil rights legend, longtime Rep. John Lewis.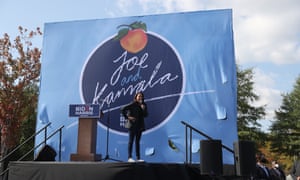 Friends, this isn't the time to be complacent. If you are ready to fight for the soul of this nation, you can start by donating to elect Joe Biden and Kamala Harris by clicking the button below.
Thank you so much for supporting Joe Biden's Presidential campaign.