Global deaths jumped by more than 12,000, another daily record, according to data from Johns Hopkins University. Japan is bracing for a new daily record of coronavirus infections, as authorities began hinting they may take stronger measures to arrest the increase.
Cases worldwide have topped 52 million. Germany's infection rate eased. U.S. new daily cases set a record, with the early epicenter of New York ordering measures to tamp down a fresh wave. Covid hospitalizations climbed by more than 10% in five days across six U.S. states.
On the vaccine front, Moderna Inc. said its trial has reached a key target for analyzing the shot's effectiveness. Brazil reversed its decision to suspend Sinovac Biotech Ltd.'s studies amid criticism the decision was politicized.
Key Developments:
Subscribe to a daily update on the virus from Bloomberg's Prognosis team here. Click CVID on the terminal for global data on coronavirus cases and deaths.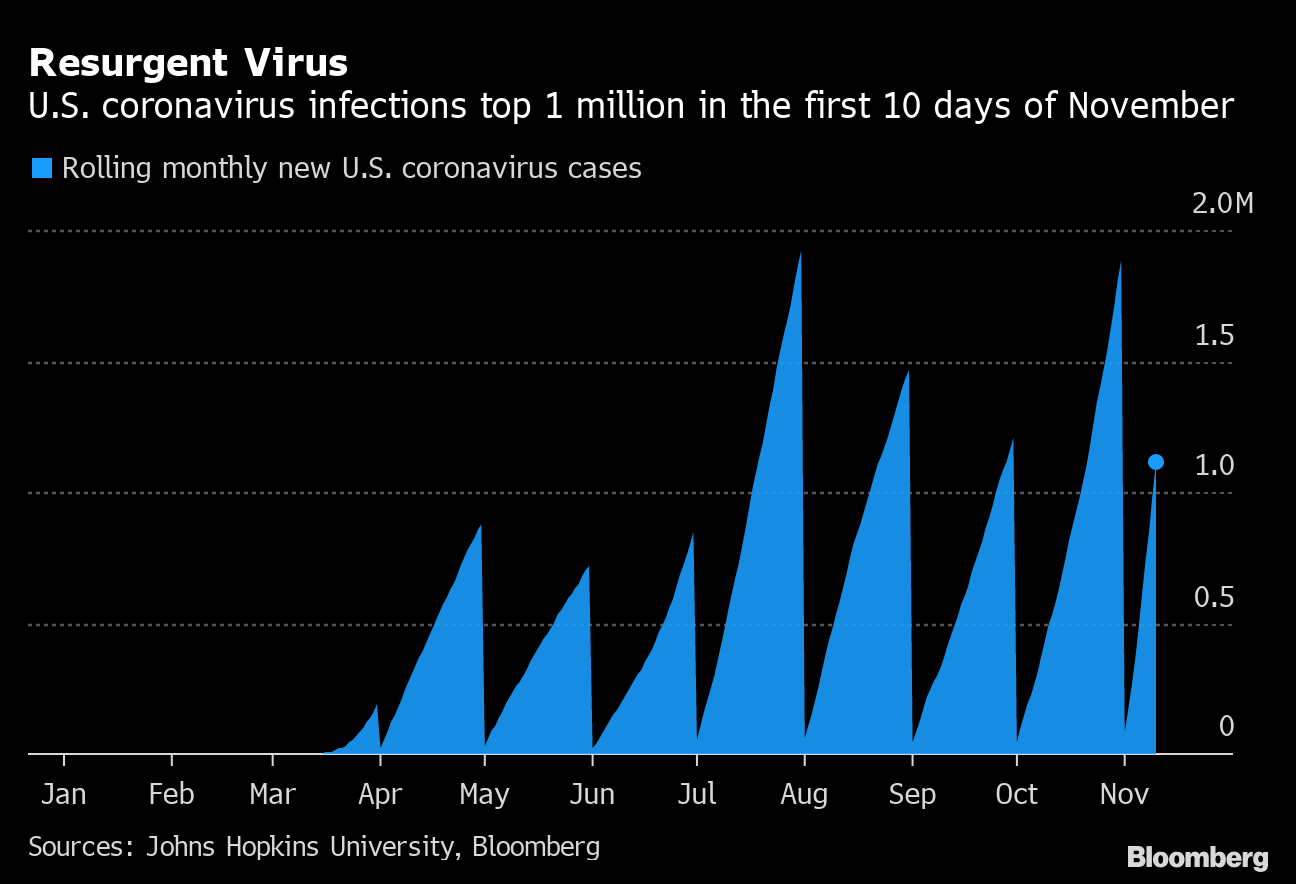 German Cases Rise by 22,401 as Infection Rate Falls (3 p.m. HK)
Germany recorded 22,401 new coronavirus cases in the 24 hours through Thursday morning, down from the previous days' figure of 26,547, according to data from Johns Hopkins University. That's well short of the record of more than 31,000 set earlier this month.
The number of fatalities rose Thursday by 213 to 11,994, down from Wednesday's gain of 373, which was the most since mid-April. Germany's reproduction factor — the average number of people infected by one person with the virus — fell to 0.77 on Wednesday from 0.88 the day before, well below a key benchmark of 1.0.
Chancellor Angela Merkel on Wednesday warned of a tough winter ahead as she expects the coronavirus to hit stronger than it did in the spring. "We must continue to keep precautionary measures in place," the German leader said.
H.K. Kindergartners to Return to Online Classes (2:51 p.m. HK)
Hong Kong ordered the city's kindergartens and child-care centers to stop in-person classes for two weeks after an apparent outbreak of the common cold, though none of the cases tested positive for Covid-19.
The stoppage, resulting from the recent jump in upper respiratory tract infections, will begin Nov. 14, Health Secretary Sophia Chan said at a briefing in Hong Kong on Thursday. She wouldn't rule out an extension of the suspension if the situation deteriorates.
Covid Hospitalizations Jump Over 10% in Five Days in U.S. States (1:57 p.m. HK)
Hospital beds are filling up across the U.S., bolstered by a surge in coronavirus cases in the Midwest, government data show.
Illinois, Michigan, Ohio, Minnesota and Iowa are among states recording the biggest increases in Covid-19 hospitalizations over the past week, according to Department of Health and Human Services data analyzed by Bloomberg News. In North and South Dakota, more than one in five hospital patients has the pandemic disease.
Hospitalizations climbed more than 10% between Nov. 6 to Nov. 11 in six states, led by a 20.4% jump in New Jersey.
Japan Braces for Fresh Record Amid Fears of Winter Wave (1:25 p.m. HK)
Yasutoshi Nishimura, the minister overseeing the country's coronavirus response, said more stringent steps may be needed amid a clearer rising trend in cases, Jiji reported, the strongest indication yet from the national government that tougher action may be needed in a country that has largely escaped the worst of the pandemic.
While numbers are low in absolute terms, a spike in northern Japan, which is seeing colder temperatures compared to the rest of the country, is leading to concern that cases could spread as winter sets in nationwide.
The northern island of Hokkaido is already set to hit a daily record of around 230 cases, according to broadcaster FNN. The local government has already asked bars and other establishments to close early in the regional capital's nightlife district.
A record 81 cases were also found in Hyogo prefecture, FNN reported.
N.Z. Urges Care in Auckland on Virus Scare (1:14 p.m. HK)
New Zealand health officials are asking people who work in downtown Auckland to stay home Friday while they trace the movements of a person who may have contracted coronavirus from within the community.
New Zealand earlier this year succeeded in eliminating community transmission of the coronavirus by imposing a strict nationwide lockdown.
Mongolia Tightens Lockdown Measures (9:55 a.m. HK)
Mongolia has extended its lockdown to five days from three, as the government has characterized the risk of an outbreak in as "very high."
Ulaanbaatar has mobilized state agencies for "disaster preparedness" response efforts and limited the hours for public transportation, according to a statement on the government's official website.
IOC More Confident Tokyo Olympics Will Have Spectators (9:14 a.m. HK)
The International Olympic Committee is "more and more confident" that there will be "reasonable amount of spectators" at the Tokyo Olympics next year, President Thomas Bach said in a press briefing on Wednesday.
More virus countermeasures are being added, and the potential availability of vaccine and rapid testing should also help the Tokyo games. Bach will visit Japan next week.
Mexico Reports 7,646 New Cases, 588 More Deaths (9:12 a.m. HK)
Mexico has a total of 986,177 cases, according to data released by the Health Ministry Wednesday night. Deaths rose 588 to 96,430. The ministry says 35% of general Covid-19 beds are occupied.
Fosun Pharma Covid Vaccine Gets China's Clinical Trial Approval (8:40 a.m. HK)
Shanghai Fosun Pharmaceutical says clinical trial application for the licensed mRNA vaccine product BNT162b2 in preventing Covid-19 was accepted by China's National Medical Products Administration, according to stock exchange filing.
As at the date of this announcement, BNT162b2 is at phase III clinical trial in the U.S., Germany, Argentina, Brazil, South Africa and Turkey.
Ohio to Review Imposing Curbs as Cases Rise (7:46 a.m. HK)
Ohio Governor Mike DeWine is toughening a mask mandate and said restaurants, bars and fitness centers will be forced to close if virus trends don't improve. The state, which has reported record infections in recent days, will review the situation one week from tomorrow.
"I am very well aware of the burden this will place on employees and the owners," DeWine, a Republican, said in a statewide address Wednesday. "But, these are places where it is difficult or impossible to maintain mask-wearing, which we know now is the chief way of slowing this virus."
Stores must post signs about the mask requirement at all public entrances and will be responsible for ensuring that all customers and employees are wearing masks, DeWine said. Ohio will also ban dancing, games and congregating at events like wedding receptions.
Brazil Reports More Than 48,000 Cases in 24 Hours (7:03 a.m. HK)
Brazil reported a total of 5,748,375 Covid-19 cases, of which 48,331 were in the last 24 hours, the Health Ministry said. The tally may not include all pending cases that have not been reported in the last few days due to technical issues, it added.
The death toll rose by 544 to 163,373, excluding the latest fatalities in Minas Gerais state, whose numbers were last updated on Nov. 7.
Meanwhile, health agency Anvisa authorized Sinovac Biotech Ltd. to resume its vaccine trials less than 48 hours after halting the tests, which are being conducted in the state of Sao Paulo. In a statement posted on its website Wednesday, Anvisa said it initially got "precarious data" on a "grave" event, which led it to suspend the study late Monday. The agency added that it reversed its previous ruling after receiving new information and that it will keep monitoring the case.
Moderna Trial Reaches Key Goal to Analyze Efficacy (5:20 p.m. NY)
Moderna Inc. said its vaccine trial has accumulated enough infections to allow for a preliminary analysis of the shot's effectiveness to begin.
Moderna didn't predict how long it could take an independent monitoring committee to analyze the data, but said the company could get the data to the committee within days. The company said it is still blinded to the data.
"Moderna has seen a significant increase in the rate of case identification across sites in the last week," the company said in a statement. "As a result, the company expects the first interim analysis will include substantially more than 53 cases, the targeted trigger point for the analysis."
White House Outbreak Expands (4:30 p.m. NY)
At least three more people in President Donald Trump's orbit — including White House political director Brian Jack — have tested positive for the coronavirus.
Jack, who attended Trump's election night event in the East Room of the White House, and one of his aides both tested positive for the virus, according to two people familiar with the diagnosis who requested anonymity to discuss private medical information. So too did political adviser Healy Baumgardner, a Trump ally who attended the White House party as a guest of Trump lawyer Rudy Giuliani.
The newest cases follow the infections of White House Chief of Staff Mark Meadows, Housing and Urban Development Secretary Ben Carson, and Trump campaign adviser David Bossie.
N.Y. Orders Bars, Restaurants to Close at 10 p.m. (1:52 p.m. NY)

New York will order bars, restaurants and gyms closed at 10 p.m. and limit indoor gatherings to 10 people, Governor Andrew Cuomo said.
These measures "are appropriate at this point in time in anticipation of what we see as a potential spread," Cuomo said Wednesday during a call with reporters. "If these measures are not sufficient to stem the spread, we will turn the valve more."
New York reported 4,820 additional virus cases, the most since April. The rate of positive tests has climbed to 2.9%. The state has 1,628 people hospitalized for Covid, twice as many as a month ago.
— With assistance by Kara Wetzel, and Catherine Larkin
Friends, this isn't the time to be complacent. If you are ready to fight for the soul of this nation, you can start by donating to elect Joe Biden and Kamala Harris by clicking the button below.
Thank you so much for supporting Joe Biden's Presidential campaign.