LOS ANGELES – In less than two weeks California voters will decide for the 55th time in the state's history to recall a sitting governor, Democrat Gavin Newsom. The only successful campaign was in 2003 when voters recalled Gov. Gray Davis (D).
In that election, 135 candidates ran and the winner, actor and businessman Republican Arnold Schwarzenegger received 48.6% of the vote to replace Davis.
The recall effort according to Newsom is a "Republican recall — backed by the RNC, anti-mask and anti-vax extremists, and pro-Trump forces who want to overturn the last election and have opposed much of what we have done to fight the pandemic."
Californian voters must answer two questions. The first asks whether Newsom should be recalled. The second asks who should succeed Newsom if he is recalled. A majority vote is required on the first question for the governor to be recalled. If that majority is reached, then the candidate with the most votes on the second question wins the election, no majority required. Voters may vote on both questions regardless of whether they vote in favor or against the recall.
The first question is in itself problematic according to politicos in progressive circles who echoed Newsom's characterization of the real effort behind the recall election. An updated chart by Nate Silver's FiveThirtyEight website that specializes in political data analysis as of August 31 shows Newsom with an averaged 5 point lead.
Forty-six candidates—including nine Democrats and 24 Republicans—appear on the ballot for the second question, including YouTuber Kevin Paffrath (D), 2018 gubernatorial candidate John Cox (R), radio host Larry Elder (R), former San Diego Mayor Kevin Faulconer (R), California State Board of Equalization member Ted Gaines (R), former Olympian and television personality Caitlyn Jenner (R), and Assemblyman Kevin Kiley (R).
The front runner out of those forty-six candidates Larry Elder, however, is a person who has a long and well established anti-LGBTQ+ animus and other conservative viewpoints that rankle progressive leadership in California's Democratic Party.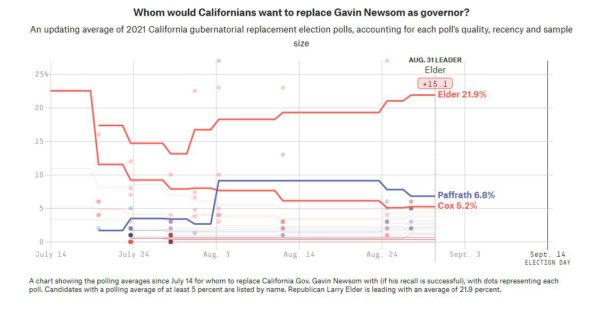 Calling themselves "Elderados," the radio show host's base is a coalition of longtime fans, evangelicals and Trump backers, many who have expressed disdain for LGBTQ+ equality and civil rights.
For California's queer population, fear of long-term adverse effects
Newsom in a tweet this last week acknowledged the damage the recall could do overall with a list detailing the top concerns including; a potential United States Senate seat, the Care economy, Child care, Preschool for all, and Free community college. Speaking with political pundit Brian Tyler Cohen on his No Lie with BTC podcast on Monday, the governor reflecting on his potential defeat in the recall election; "I think it'd have tectonic implications."
The long-term impact of the loss of the current Senate seat occupied by Diane Feinstein, 88, a seat she has held since 1992, to a Republican or as one progressive pundit privately expressed, an ' Elderado' directly affects the current precarious balance for the Democrats in the Senate and would almost ensure that LGBTQ Equality would become a mute issue should the Republicans regain a Senate majority.
In an email Wednesday, California's junior U.S. Senator Alex Padilla told the Blade; "Governor Newsom has been a national champion for LGBTQ rights. Since his early days as Mayor of San Francisco, Governor Newsom has taken bold, unprecedented actions to defend the rights of the LGBTQ community. We watched LGBTQ rights and protections come under attack during the Trump administration — and they will come under attack again if the Republican recall of Governor Newsom prevails. A vote NO is a vote for equality. Californians must stand up for our LGBTQ communities by voting NO before September 14."
Beyond the Federal implications, Rick Zbur, the outgoing Executive Director of Equality California told the Blade; "Recalling Gavin Newsom — the most pro-equality governor in California history — would be disastrous for the LGBTQ+ community. Everything we've fought for — LGBTQ+ equality, reproductive freedom, gun safety reform, environmental protections and racial justice — are all on the line. There's too much at stake for our LGBTQ+ community and the diverse communities to which we belong to sit on the sidelines.
Zbur added; "Let's just say that when Mike Huckabee is supporting a campaign, you can safely assume it's not going to help the LGBTQ+ community. They want to roll back the progress California has made under Governor Newsom's leadership — on LGBTQ+ civil rights, gun safety reforms, criminal justice reform, the environment and healthcare.
They want to take California backwards — while we and Governor Newsom are focused on moving forward — on beating this pandemic and building a brighter future for everyone. A future that is healthy, just and fully equal for all LGBTQ+ people — and for all Californians. A future with racial justice and equity and in which everyone has access to the quality healthcare and housing that they need."
LGBTQ+ Californians — who represent 12% of registered California voters — will be leading the fight to defeat this recall — just as Governor Newsom has been leading the fight for full, lived LGBTQ+ equality.

Rick Zbur, equality California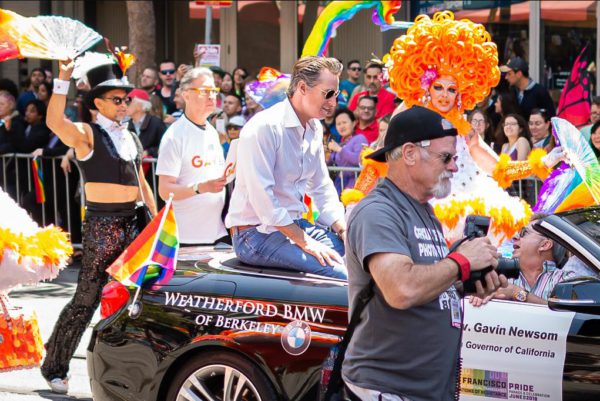 In a state of 22 million registered voters and 40 plus million residents with a long arc bending towards progressive politics, there are still those in the LGBTQ+ community who see that a change in allyship in the Governor's chair would spell disaster for ensuring that legislative actions, even if passed by a Democratically controlled Assembly and Senate would continue to be signed into law- let alone get favorable attention.
State Senator Scott Wiener, (D-11,SF) the former chair of the California Legislative LGBTQ Caucus speaking to the Blade warned, "The Republican recall is an existential threat to California. As a gay man, it is terrifying to imagine someone like Larry Elder becoming governor. He's said many hateful things about LGTBQ people and will move us backwards on LGBTQ rights."
Wiener added; "When it comes to important issues, Larry Elder or any number of the Republicans running to replace Newsom would be a disaster; we need real, progressive leadership to manage wildfires, build more housing near jobs and transit, invest in public transportation, reform our criminal justice system, address our addiction and mental health crises, and get us to a clean economy and 100% renewable energy. We can't afford to lose a couple of years with a right-wing governor. Democrats, there's no mincing words: we need you to get involved. Now is the time to turn in your ballot and vote no on the recall, and tell everyone in your community to do the same."
In addition to his disdain for LGBTQ+ equality, on another contemporary pressing issue, the current coronavirus pandemic, which was the spark that lit the match leading to the recall, Elder in a Monday interview with CNN's Joe Johns in Los Angeles said he doesn't think it's necessary for young people to get vaccinated against Covid-19 or for children to wear masks at school, and he vowed to repeal any mask or vaccine mandates for California's state workers if he is elected to replace the Democratic governor in the September 14 special election.
"I don't believe the science suggests that young people should be vaccinated. I don't believe the science suggests that young people should have to wear masks at school," Elder said.
While the election will be held on Sept. 14, the results will not be certified until Oct. 22. A semifinal official canvass of the votes will begin at 8:00 p.m. on election day and election officials may begin counting absentee/mail-in ballots on Sept. 7. This means initial returns may be released soon after polls close. The official canvass will begin on Sept. 16 and must be completed no later than Oct. 14.
Friends, this isn't the time to be complacent. If you are ready to fight for the soul of this nation, you can start by donating to elect Joe Biden and Kamala Harris by clicking the button below.
Thank you so much for supporting Joe Biden's Presidential campaign.