Victoria has reached a new daily COVID-19 case number record for this year, with 603 local infections recorded yesterday.
The Department of Health said one person had died from the virus.
There were 40,811 vaccines administered yesterday and 48,829 test results received.
The closure of construction projects for at least two weeks was confirmed by Victorian Treasurer Tim Pallas last night, two hours before the shutdown came into effect at 11.59pm.
The shutdown applies to all construction projects in Metropolitan Melbourne, Ballarat, Greater Geelong, Surf Coast Shire and Mitchell Shire, with limited exemptions.
Hundreds of angry protesters and "fake tradies" violently demonstrated outside the CFMEU Melbourne union office yesterday against mandatory COVID-19 vaccines for the construction industry.
"We put the industry on notice just a week ago, we have seen appalling behaviour on-site and on our streets, and now we're acting decisively and without hesitation," Mr Pallas said in a statement.
Health experts this morning have warned vaccines alone won't stop the spread of coronavirus and even 80 per cent of the adult population being immunised is not enough.
Epidemiologist Professor Tony Blakely has co-authored a new report arguing 80 per cent vaccination coverage would not support a safe reopening.
He believes children as young as five years old would need to be vaccinated for society to reopen and for the population to be protected.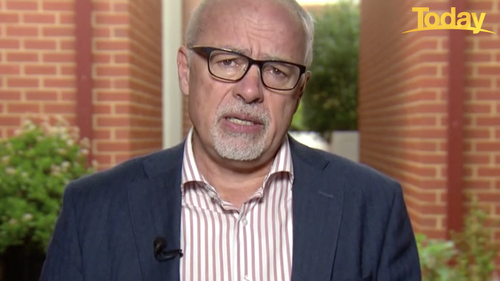 "If we had 80 per cent of adults only vaccinated, it wouldn't be very pretty next year," he said.
"But if we get 80 per cent of five-plus children also vaccinated, and we keep the minimum public health and social measures in place – like people like me working at home when I can, only going to work one day a week, density limits in hospitality – we'll get to a reasonable (amount of) hospitalisations in a year a state the size of Victoria.
"But we'd still spent 14 per cent of the time in lockdown.
"That's not great but it's getting there but there are further innovations we can do on top of that to make life even better next year."
Friends, this isn't the time to be complacent. If you are ready to fight for the soul of this nation, you can start by donating to elect Joe Biden and Kamala Harris by clicking the button below.
Thank you so much for supporting Joe Biden's Presidential campaign.