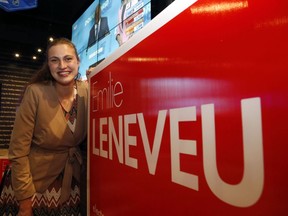 Article content
As she had during her campaign, first-time Liberal candidate Emilie Leneveu was focusing on positivity after losing to Bay of Quinte Progressive Conservative incumbent Todd Smith in Thursday's provincial election.
Article content
Though disappointed by her loss and that of her party, Leneveu, 24, said she hoped all parties will work to end divisive politics.
"We need to go back to a place where democracy is made of respect and courage and collaboration," she said at Belleville's Shoeless Joe's restaurant, where she spent the evening with her campaign team and supporters.
With  all polls reporting, unofficial results showed Leneveu in third place with 18.4 per cent of the vote. Smith was well ahead with a commanding 49.3 per cent, while the NDP's Alison Kelly was second with 20.9 per cent.
In fourth place was the Green Party's Erica Charlton with 6.2 per cent. New Blue Ontario candid Rob Collins was fifth and the Ontario Party's Noah Wales were fifth and sixth respectively, each with less than three per cent.
Leneveu was visibly shocked when provincial Liberal leader Steven Del Duca resigned after failing to win a seat.
She said earlier the Liberals "may need to reflect" on the time since the last leadership campaign, though she said Del Duca had been very supportive on a personal level.
The candidate said she was proud not only of her local team but also the party's platform consulation process, commitment to gender parity – more than 60 per cent of candidates are women – and to youth. She was one of the candidates chosen during a plan to recruit 30 candidates under age 30.
She said it had been an "empowering and humbling" experience to be involved in a party group addressing the environment and energy and also co-chaired the annual general meeting.
Article content
"It's definitely been a learning experience, and a fantastic experience with my team," said Leneveu.
"I tried to stay as positive as possible. Positive politics is one of the reasons I wanted to enter the ring at such a divisive time."
She said she and her supporters "absolutely" faced negativity "on a daily basis" and, in a few instances, did not feel safe. She said they resolved some situations by addressing misinformation.
Campaign manager Miguel Carneiro said some people confused the provincial Liberal party with the federal one.
But in general, he said, campaigners heard "a lot of, 'We need change' and, 'She's a breath of fresh air.'
"She put in a hard 500 days from the time she was nominated," said Carneiro.
Michael Harris, who managed former Liberal MP Neil Ellis' successful 2019 campaign, said Leneveu's was even better and more organized.
"She isn't just a slogan. She knows what she's talking about," Harris said.
Leneveu said she wants the party to continue to be diverse and to "amplify" voices which need to be heard.
She said Scarborough-Guildwood Liberal MPP Mitzie Hunter's phrase, "If you can see me, you can be me," is inspiring and people should be able to see themselves reflected in government.
Liberals will continue to work "to make life more affordable," said Leneveu, citing the affordability of housing, food and fuel as the top issue raised by voters.
She called upon the new government to use the solutions to Ontario's problems presented during the campaign and, if nothing else, to listen.
Article content
"I hope that our next government … doesn't turn a blind eye to climate change" and invests in health care and education while scrapping Highway 413, she said.
Leneveu urged youth to get involved – in politics or simply community groups or projects.
Campaigning was "the most rewarding experience I have ever had," she said.
Her field organizer, Melissa LaFrance, said the entire team is ready to support Leneveu for another four years if needed.
"We continue to believe in her."
Leneveu said she had not decided whether to seek another provincial nomination. She did not rule out candidacy in October's municipal election but said it is not her current plan.
Friends, this isn't the time to be complacent. If you are ready to fight for the soul of this nation, you can start by donating to elect Joe Biden and Kamala Harris by clicking the button below.
Thank you so much for supporting Joe Biden's Presidential campaign.