While tank movements, drone strikes, and conventional warfare have been key aspects of Ukraine's war against a Russian invasion, the online battle against disinformation and propaganda has been a hallmark of what many consider the first war of the digital age.
Mike Madrid and Ron Steslow, known stateside as co-founders of the influential Lincoln Project, which they exited before it was hit by allegations and infighting, are among those who see the Ukraine-Russia war as part of a broader struggle between democracy and authoritarian forces.
That's why the two men planned an under-the-radar 10-day trip to Ukraine in the beginning of May, aided by a Russian information specialist, to meet with three officials in Ukrainian President Volodymyr Zelensky's administration to discuss the work they've done and how they can be of help.
"We believe there needs to be a global coalition of activists engaged in the fight for democracy," Madrid, now back in California, told Newsweek.
He called for a bipartisan coalition like the one that fueled The Lincoln Project, to act as a "bulwark against the actions of authoritarian regimes."
Steslow, host of the Politicology Podcast, says it's time for a "transnational political movement" fighting autocracies all over the world, deeming it "an extension of the fight we started against Donald Trump and authoritarian influences that f**ked up our country."
Madrid stresses that he and Steslow don't work for state governments and aren't taking money from Ukraine, but they see the series of meetings and any future partnership coming from a similar outlook on the ties that bind not just the U.S. and Ukraine, but all democracies against autocracies.
The Lincoln Project drew tens of millions of eyeballs to its viral videos that sarcastically slammed Trump, taking the fight to him through biting humor, and then parlayed attention the group received into raising millions of dollars it used in part to target persuadable college-educated Republican women.
Madrid said a tendency people have with authoritarians is to make them out to be a "devil," citing protest signs where people like Russian President Vladimir Putin are shown with horns, which turns them into a "fearful figure."
"They way to beat these guys is to humiliate them, to turn them into a jester, turn them into a clown," he said, which emboldens people to respond.
He pointed to Lincoln Project ads that showed Trump using two hands to drink water or slowly walking down a ramp, and the opportunity now with Putin making "a massive strategic blunder moving into Ukraine."
"There's a competence question that must be punched through," Madrid said. "An authoritarian requires a veneer of dominance and seeming indestructible."
Beyond the bet that the digital infrastructure that helped get rid of Trump can be expanded globally, the political operatives also see the opportunity to pressure companies to pull their businesses out of authoritarian regimes in the future. They believe it can be modeled on the amplification they were successful with at The Lincoln Project, but taken to the "next level."
Most U.S. companies have been extraordinarily helpful to Ukraine, Madrid said, and they have no specific companies in mind, but they could apply pressure in the future on "multinational companies" in the event it's needed to "protect liberal democracies."
While Madrid and Steslow didn't see combat or airstrikes during their visit, Ukraine was unmistakably at war, they said, with air raid sirens going off and Ukrainians seemingly steeled to make their days as "normal" as possible, appearing to defy Putin's aggression.
Beyond meetings with government officials that Steslow carefully described as "working in the information space," they also held after-hours meetings with academics and researchers in the city of Lviv, where a curfew meant they sat "by the light of their stove."
It was a wakeup call for Madrid, who remembers wondering, "What was I thinking? What am I doing here?"
The two had no fixed agenda as they headed on their 10-day trip, with their meeting with government officials coming together slowly with new information made available hour-by-hour on the appointed day. For example, first they would be told to be in a city on a Tuesday afternoon, then an hour before the meeting they would be asked to meet at the outskirts of that city.
After meeting with the Ukrainians, the strategists found that one of the biggest problems the government has moving forward is keeping the west and Americans paying attention to the battle against authoritarianism because they have "extraordinarily short attention spans," Madrid said, acknowledging the war must compete with things like Roe v. Wade, the price of gas, midterm elections, and even the Johnny Depp-Amber Heard trial.
In this way, while Ukraine may be winning the messaging war so far, the country is focused on how it can continue to win it in the coming months and over the next year.
"Authoritarians have the advantage that they can wear democracies down because they have to build consensus and support," Madrid said.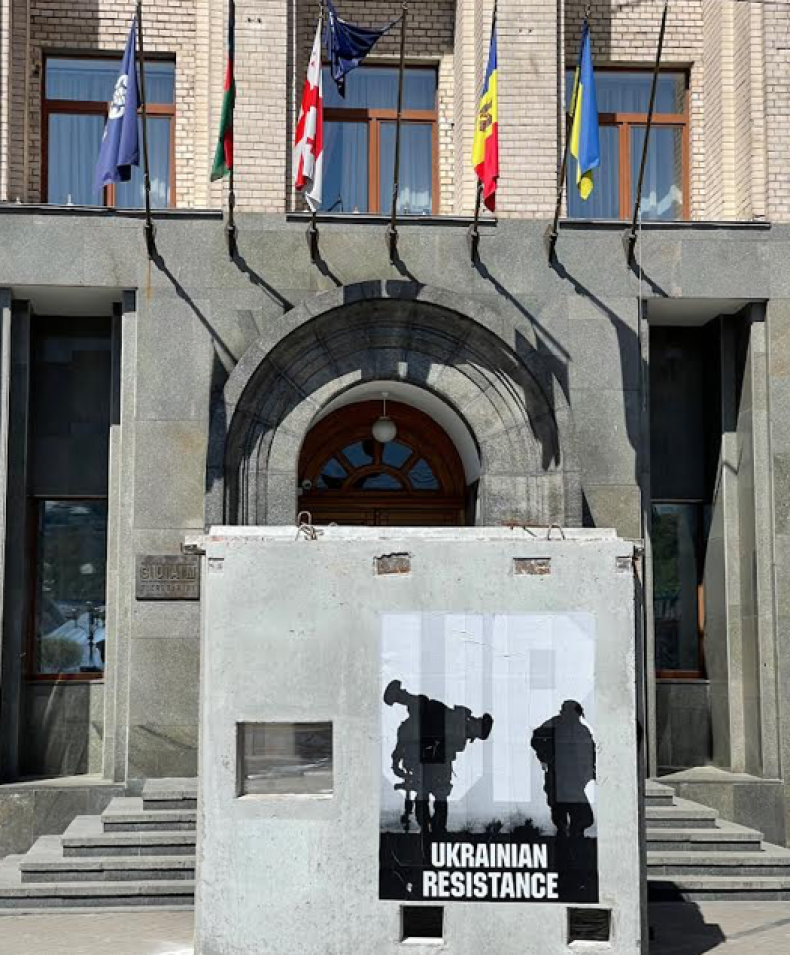 The battle over information is not a new element in wars with Russia. The C.I.A. funded news organizations during the Cold War in an effort to get facts through the Iron Curtain.
Madrid said right now the focus is on how the rest of the world sees the fight, but acknowledged that the issue of penetrating Russia's information firewall did come up in the conversations he had with the Ukrainians.
Michael Butler, an associate professor of political science at Clark University and a scholar of armed conflict and security, wrote that with the charismatic Zelensky leading the way, "Ukraine's savvy use of traditional and social media as well as direct appeals to the U.S. Congress, European Parliament and the court of world opinion have provided a clear and compelling framing of the war."
Beyond Angelina Jolie in Lviv and Bono showing up in Kyiv, Madrid said, Ukrainian messaging efforts are broader and bigger than what the public sees, and that he and Steslow were learning as much or more than they were offering.
"Their analytic work is just far deeper, far more expansive than anything anyone is doing in the campaign space anywhere else in the world," he said.
In the wake of the visit, Steslow and Madrid are meeting with Ukrainian nationals who are Los Angeles-based activists in the next week.
They note that the Ukrainian government is in regular contact with activists like these, making them aware of messaging problems in certain countries and directing them to set up social media messaging channels to counteract what is already out there.
Steslow said that while he understood before his visit that the war was a brutal conflict started by Russia over territory, his conversations with Ukrainians gave him a new understanding of what the fight means to them and why it is resonating with Americans.
The Ukrainians, he said, would tell him they were fighting for shared values like freedom and the ability to determine their own future. But when they were pushed to identify what those values were, he found them grasping for something that defied words.
"What is it they're trying to take from you?" Steslow asked.
"Our core," the Ukrainians told him, tapping their chests.
"Human beings struggling to explain what they are willing to fight and die for connected with me on an emotional level," he said.
For Madrid, the challenge for the foreseeable future is to show the fight goes beyond Ukraine.
"It's the definition of how democracy will succeed or fail in this century," he said. "If we do not have global allies, we will lose."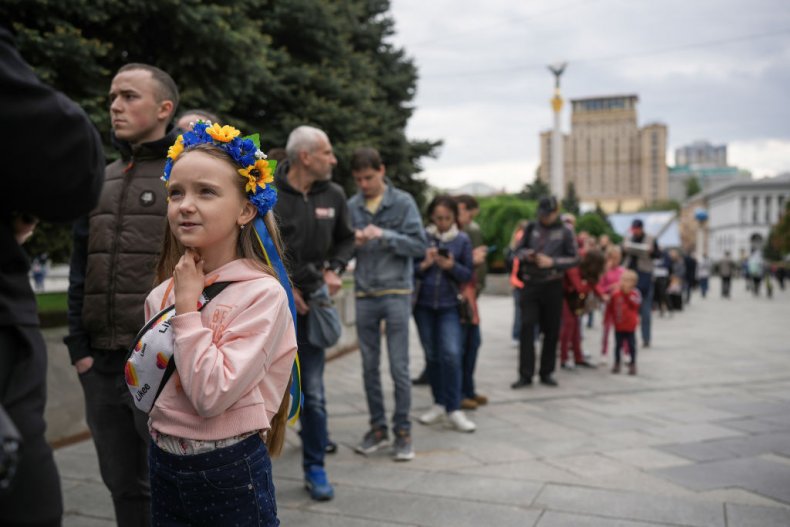 Friends, this isn't the time to be complacent. If you are ready to fight for the soul of this nation, you can start by donating to elect Joe Biden and Kamala Harris by clicking the button below.
Thank you so much for supporting Joe Biden's Presidential campaign.