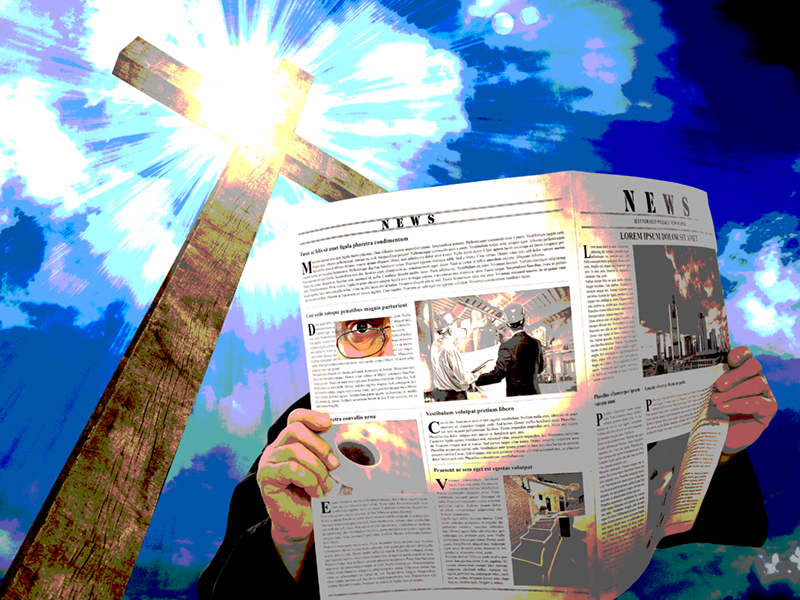 A group of conservative Catholics spent millions of dollars to buy mobile app tracking data to identify priests using gay dating and hookup apps before sharing it with Church hierarchy in order to purge the priesthood of those violating their vows of celibacy.
The Denver-based group, Catholic Laity and Clergy for Renewal, claims its mission is to "empower the church to carry out its mission" by giving bishops "evidence-based resources" to identify weaknesses in how they train priests.
The group's president, Jayd Henricks, wrote a first-person piece on the site First Things saying he was proud to be part of the group, whose purpose was "to love the Church and to help the Church to be holy, with every tool she could be given," including data.
Henricks claimed that the group has done other research, in addition to analysis of dating and hookup apps. For instance, he claims to have data showing that when priests in seminary who are studying to become priests "spend a year fasting from technology" at the beginning of their studies, the Church can more quickly discern whether they have a vocation, and those who continue their studies afterward are more likely to ultimately be ordained.
According to The Washington Post, shortly after being founded in 2019, Catholic Laity and Clergy for Renewal obtained data from 2018 through 2021 for multiple dating and hookup apps, including the gay apps Grindr, Scruff, Growlr, and Jack'd, as well as OkCupid, a major dating site for people of all sexualities. However, according to reports prepared for bishops, most of the data appears to be from Grindr, and those familiar with the project said the organizers' focus was tracking gay priests. 
One of those reports says the group's sources are data brokers who got the information from ad exchanges, which are sites where ads are bought and sold in real time, like a stock market. According to another report and an audio recording of Henricks discussing the project, the group cross-referenced location data from the apps and other details with locations of church residences, workplaces, and seminaries to find clergy who were allegedly active on the apps, with the intent of reporting them to their superiors.
In the First Things piece, Henricks vilifies not only the Post for having the audacity to ask questions about the project, but the "secular" media in general, playing the well-worn and oft-utilized "Christians-as-victim" card, claiming the larger society does not understand Catholic issues and only focuses on salacious stories that touch on sex. He also claims the project is important to exposing errant priests who compromise their spiritual and moral integrity when they engage in extramarital sex.
"It's true, as part of our data analysis work, we learned that some clergy were publicly advertising their interest in actions that contradicted their promises of celibacy," he wrote. "Sadly, in some places, we could scarcely avoid seeing it. And there have been news reports about priests arrested for criminal use of such apps. All of that is a problem — one we as a Church can choose to acknowledge and confront, or not.
"Publicly available data, bought in the ordinary way, was given to us at CLCR, and as we analyzed it, it became clear that heterosexual and homosexual hookup apps were used by some seminarians and some priests in some places, and with volumes and patterns suggesting those were not isolated moral lapses by individuals," Henricks added.
"It should be noted that these sorts of hookup apps are designed specifically for casual, anonymous sexual encounters — it's not about straight or gay priests and seminarians, it's about behavior that harms everyone involved, at some level and in some way, and is a witness against the ministry of the Church."
Henricks also claimed he met with a "handful" of rectors and bishops to inform them of the priests' possible moral lapses and left it to them "to act prudentially" in addressing the issue. He insists the information was never made available for public use.
As the Post notes, the audio recording of Henricks and two sources who spoke with the newspaper on condition of anonymity — to protect them from backlash, and because the project was never supposed to be made known to the public — revealed that some of those involved in the Renewal project were also involved in the July 2021 outing of a prominent priest, Monsignor Jeffrey Burrill.
Burrill resigned from his post as the top administrator at the U.S. Conference of Catholic Bishops after a Catholic news site, The Pillar, claimed it had mobile app data showing he regularly used the Grindr app and had gone to a gay bar and a gay bathhouse and spa. At the time, The Pillar did not say where it had obtained this data. 
According to the Post, the Renewal group's effort to "out" wayward priests continued for at least another year after Burrill's outing. In total, the group has spent at least $4 million on the effort and approached more than a dozen bishops with the information. While there do not appear to have been public outings of priests similar to what occurred with Burrill, it is unclear whether the data has led some priests who have been accused of using dating or hookup apps to resign or be fired, or led some seminarians to halt their studies or drop out.
One of the two sources familiar with the project said that people suspected of being on the apps may be denied promotions or forced into early retirement without knowing why.
The use of this data shows the legitimate concerns that people — not just priests — using apps may have about privacy and surveillance, now hat private individuals can potentially track other Americans' locations and activities using commercially available information. There are currently no data privacy laws in place in the United States that would prohibit the sale of such data. 
Justin Sherman, a senior fellow at Duke University's public policy school, who focuses on data privacy issues, told the Post that police have previously used similar app data to surveil citizens instead of seeking a warrant, domestic abusers have accessed data about their victims, and anti-abortion activists have targeted people who visit clinics.
But Bennett Cyphers, a special adviser to the Electronic Frontier Foundation, a digital rights organization, said that Burrill's outing was the first time he had heard of a private group buying commercial data and using it against a specific individual, calling it "a character assassination of a private citizen for some kind of political reason based on information [the citizen] didn't know they were being tracked on."
Conservative Catholics have largely cheered Burrill's outing and the Renewal project as crucial to purging the church of problematic priests in hope of avoiding possible scandals, and ensuring others who may be tempted to stray will instead abide by their vows of celibacy. 
The Rev. Gerald Murray, a New York City canon lawyer who offers church commentary on conservative media outlets, has argued that Burrill beig a priest makes any personal deviance from Church teaching "a much greater scandal" and eliminates his right to privacy.
"The promise of celibacy is a public act, it's not a private commitment," Murray told the Post. "It's of public interest when those are violated in a scandalous way."
Announcement
www.metroweekly.com