Learning just doesn't stop because the show is over. For the heavy fashion and beauty lovers, Pinkvilla's recent tête-à-tête with Sanjana Sanghi who was Siddhartha Bansal's muse on Day 2 of Lakme Fashion Week x FDCI was clear that certain and everyday, relatable topics never get old. Whether you're always the one to hunker down to examine a newly-established trend, keep only one product very close to your fingertips or function as per the fashion history lessons that were told to you, there could be certain details that still aren't a part of your books. 
Is serious schooling needed? Okay, it's easy and there is fun in exploring the unexplored or sometimes reassuring to know that there is also someone else who does what you do. The Dil Bechara actress's style, makeup or hairstyles are often convincing and that's also why we took a short class from her. If only all classes were as listenable and infallible as this one. 
Sanjana Sanghi talks about her favourite lipstick shade, colourful outfit and style icons
Can you describe your Siddhartha Bansal showstopper ensemble? What is the vibe like? 
The vibe was high fashion, anti-fit, very international and risky. Sid has showcased previously in all parts of the world and we didn't want to go with something predictable or safe. Fashion for me is about authenticity, and as a person, I love trying new & risky things. They make a strike or miss, but our prerogative is to always try & have fun with it – which is what I did up there this time too!
This wasn't your first time as a showstopper at the Lakme Fashion Week, what are some key learnings and tell us about your journey? 
Yes! I've been show-stopping for a few seasons now ever since fashion week came back on the ground post the pandemic, and what I've learned is how you feel on the inside resonates instantly in how you look, in your walk, and in your energy. So always remember that! And another learning is that even as you keep doing more of them, the nervousness never reduces! 
What are your two go-to hairstyles? A hack you've learned to keep your hair glossy?
My absolute go-to is a sleek back high pony & bun. And I also love just letting my hair down (pun intended 😉 and letting the tresses flow. A hack I've learned for hair is that your hair's health is entirely related to what you eat. If you're eating nutritious wholesome food, half your hair struggles will disappear.
Sanjana Sanghi's current favourite lipstick?
Sanjana Sanghi's forever favourite lipstick is a pink nude shade. It's my everyday.
Who according to you are style icons? Two tips you've picked from them?
For me, vintage Bollywood is where my style icons lie. Waheeda Rahman and Rekha embodied bringing your real self out in a beautiful way and fashion ultimately is expression. Those are also the tips I've learned from studying their fashion journeys. 
How would you style yourself for a party night? What do you refer to as must-haves?
I'm a tomboy at heart. When I'm styling myself to head out at night, I keep those elements alive except you'll see me switch my man shirts up for a sexy body suit, and sneakers will be replaced by heels. And a lovely big pair of earrings to elevate the look.  
What makeup products, in your opinion, are game changers?
A good lip & cheek tint. And a volumising mascara.
2 hairstyle, makeup and fashion trends you're done with it?
I'm oblivious to trends. I do what feels good. So I'm unaffected by whether I'm following them or going against them.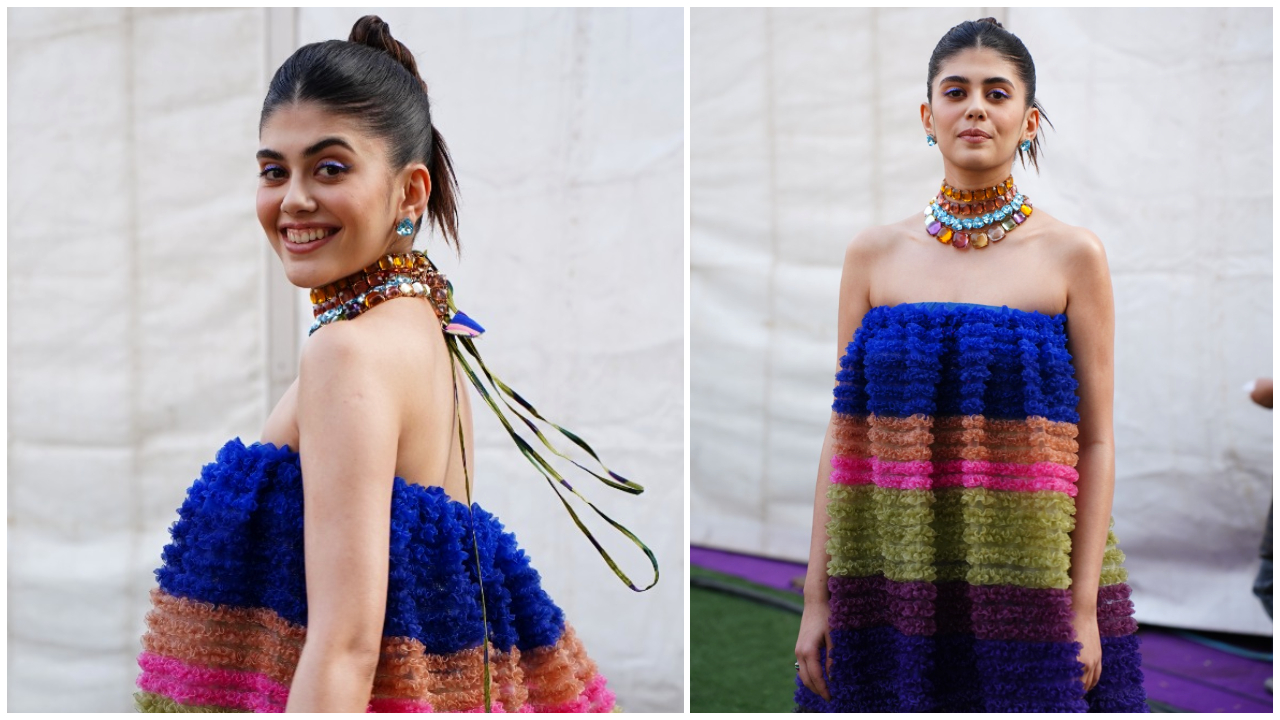 Do you love Sanjana's look? 
For more Fashion & Beauty updates, follow @pinkvillafashion
ALSO READ: EXCLUSIVE: Abirr n' Nanki of Limerick on Song Of The Valley at Lakme Fashion Week x FDCI and more