For Team USA shot putter Chase Ealey 'strong is beautiful.'
The reigning world champion has been challenging gender stereotypes in women's throwing sports, where the attention has often been placed on the muscularity of athletes.
"As a girl, it (shot put) has never been like an ideal event because it's looked at a little bit negatively, like a miss Trunchbull from Matilda," the first woman from the USA to win a shot put outdoor world title said in an interview with Olympics.com just ahead of the World Indoor Tour Madrid 2023 in February.
The 28-year-old believes that the perception is now changing, especially across the new generations: "I've seen like tons of camps and young kids are getting really interested in it, and it's it makes me really proud. So being a thrower is beautiful now."
Chase Ealey: A sprinter-turned-thrower
In high school, Ealey ruled track and field.
She starred in the 100m (sprinting to a personal best of 12.27 seconds) and also impressed in the javelin and shot put. The Illinois native seemed to be destined to be a heptathlete, but she chose to specialise in throwing events.
She was happy to follow her sister, who was already throwing, and stick to the "thing to do in between her sprints."
"I don't miss sprint workouts for sure at all… I think I took the right path," she quipped.
"I have a really good fast twitch, and I utilise that in my throw a lot. I'm still pretty fast for (an athlete) with a thrower body.
"I still think I would beat Ryan Crouser (two-time Olympic men's shot put champion) in a race over 60m… we should set that up!"
Athletics: How to throw a shot put
Chase Ealey: Missing out on the Olympic Games twice
Her passion for throwing matured over time.
A seventh-place finish at the Rio 2016 Olympic Trials and a missed attempt to make the 2017 World Championships team left her questioning her future.
A change of coach and a switch from glide to spin in the throwing technique gave her a new lease of life.
It took more than a year for Ealey to master her new drill under two-time World indoor champion Ryan Whitling.
Clinching the 2019 U.S. indoor and outdoor title as well as raising her personal best by over a centimetre to 19.68m was reassuring. She also made the finals at the World Championships in Doha, finishing seventh.
Then, another Olympic moment was taken away from her again with the Tokyo Games postponement and her failing to make the U.S. team in 2021.
The 28-year-old found herself questioning her throwing potential, yet again.
"I just couldn't find myself any more because I was feeling so much different and in such a different physique than I've ever been in," she recalled.
In that dark period she struggled with her form after contracting Covid twice and losing nearly 20 kilos.
"It was just negative, and I was competing bad. I kind of created a false confidence, even though I really had none going in. At the U.S. trials, the girls just showed up on a different level. And at trials, if you have one bad day, it's over. It was really upsetting, I remember crying all night, but I told myself I'm not going to let it happen again, and I won't."
Chase Ealey (2023 Getty Images)
Chase Ealey: Training is all physical, competition is 95% mental
Ealey nearly walked away from the sport after missing the Tokyo 2020 Olympics in 2021.
But working with a new coach and a sports psychologist helped her regain focus.
"I'm a big advocate for sports psychology because it's something that helped me get to where I am now. I was on the brink of retirement and struggling a lot," she admitted.
"I came to the UK for a training camp and ended up finding a coach that worked well with me. He keeps me grounded, and I think he pulled me out of that rut."
She left her coach Whitling at the Desert High Performance group in Arizona, and relocated to England to train alongside her friend, British Olympic putter Sophie McKinna.
In York, she began working with seasoned British throwing coach Paul Wilson and sports psychologist Lennie Waite. The pair helped her get a new perspective.
"I decided to kind of pick myself up by the bootstraps and try again. The coach keeps me grounded…he and the sports psych kind of pulled me out of that rut."
Getting back also needed a change of mindset.
"I've had a few instances where I was saved by a sports psychologist, including after Doha. I was on the brink of retirement and struggling a lot. So as upsetting as it was, I think it is why I am here now," said Ealey who finished fourth at the U.S. Olympic Trials.
"Training is like all physical, but competition to me is 95% mental. Especially in those major championship meets, you have to be able to control your mental more than anything, the physical has already been done." – Chase Ealey
With her new trainer, they worked on a 'more balanced entry position' in the circle, which created a lot more speed.
"Sometimes we're afraid to mess with our technique too much. But that's one of the things that we need to do to get those further marks," she explained.
Fixing her technique paid off with silver at the 2022 World Indoors in Belgrade. She even crossed the 20m mark for only the second time at a competition with her throw of 20.51m at the 2022 U.S. Trials in June.
She returned to the Hayward Field in Eugene nearly a month later for the World Championships and made her presence evident.
Ealey, who had just got engaged, won the USA's first gold at the Worlds, making history with her first throw of 20.49m that none of the finalists could match.
Chase Ealey's goals: Worlds in Budapest and Paris 2024
Making history has made her hungrier. The 2023 world (indoor) leader topped three of her five indoor events this season as she readies for her title defence in Budapest, and hopes to add further gloss to her career at Paris 2024.
"My biggest focus leading into outdoors is just to defend my title for sure and get some further throws. I've seen a lot of fire throws last year that I either did in warm-ups or in training, so I'm hoping to translate those into competition," Ealey explained.
"The big deal is Paris…that's where I feel like I want to make my comeback officially because of what happened after I missed Tokyo," she said about her main motivation.
"I ended up throwing one of the furthest marks that year in the world, but it didn't matter, I hadn't made the team. I want to show that when I make that team, I'm also going to bring home a medal. It's not just about making the team for me."
Talking about big throws excites her.
The women's shot put world record was set by Olympic and World champion Natalya Lisovskaya in 1987. Even though Ealey is keen on closing in on the long-standing heave of 22.63m, gradual progression of her best throw would suffice for now.
"I try not to put distance goals, but I do want to throw over 21m in the outdoors," Ealey said.
"It (the world record) is going to be a hard one. But I don't think it's as out of the way as people think for us. As women, we're really starting to find ourselves in the rotational technique, which I think is important for the that world record to be done clean."
Announcement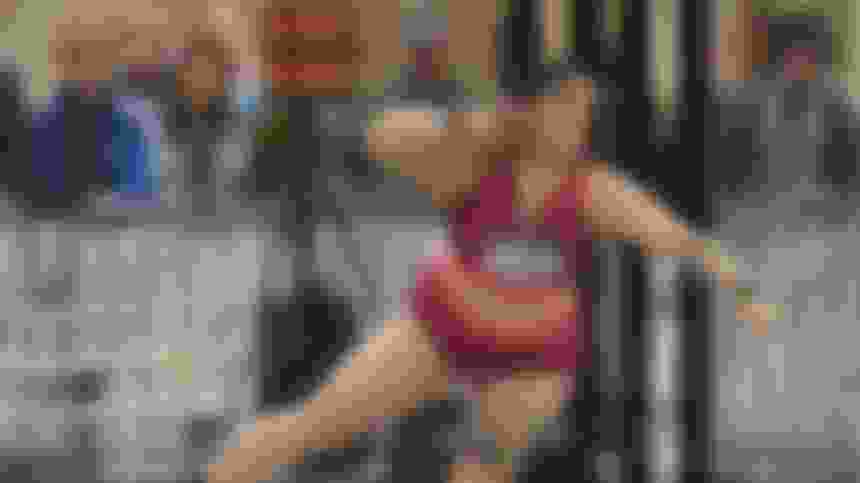 Chase Ealey competing at the 2023 USATF Indoor Championships at the Albuquerque Convention Center on February 18, 2023 in Albuquerque, New Mexico. (Photo by Sam Wasson/Getty Images) (2023 Getty Images)