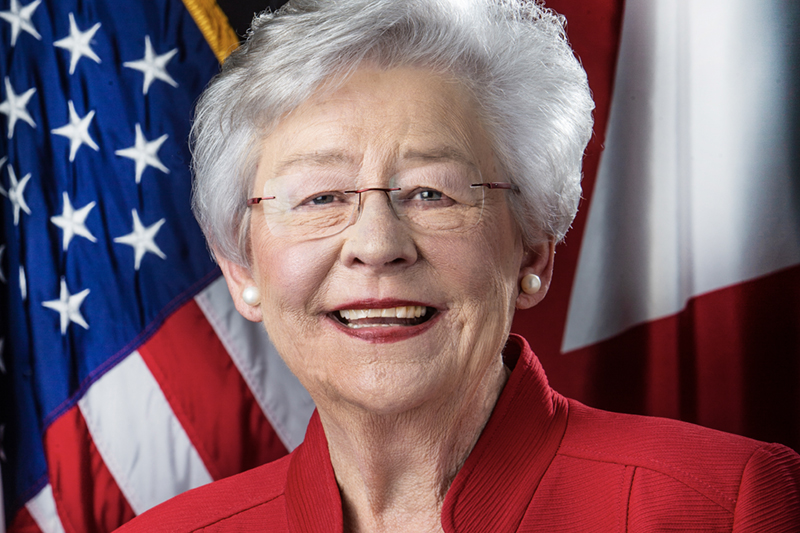 Alabama Republican Gov. Kay Ivey has forced a high-ranking state education official to resign over a teacher training manual.
The governor deemed the manual "woke" for addressing structural racism and encouraging teachers to acknowledge the "dignity" of LGBTQ students.
Gina Maiola, the communications director for Ivey's office, said the governor had accepted the resignation of Secretary of Early Childhood Education Barbara Cooper after learning of a pre-K educator resource book from a nationally accredited teaching organization that urged educators to be aware of the different backgrounds of their students and the unique challenges they may face.
The book, the National Association for the Education of Young Children's Developmentally Appropriate Practice Book, focuses on teaching children up to the age of 8.
According to Maiola, the governor's office received a complaint about the book encouraging teachers to be aware of inequities, white privilege, structural racism, and respecting LGBTQ students — although the book does not tell teachers to discuss those issues with children directly, reports the Alabama Reflector.
The manual emphasizes the importance of creating welcoming environments for all students, regardless of background or identity, and reminds teachers that some children may come from "single-parent, grandparent led, foster, or LGBTQIA+" homes, rather than two-parent homes.
"Teachers need to be particularly aware of providing supportive environments and responses to children who are members of marginalized groups and those who have been targets of bias and stereotyping," the book reads.
"Early learning settings are one of the central handful of places where children begin to see how they are represented in society," the book reads. "Thus, the early learning setting can be a place of affirmation and healing for children, or it can be a space of trauma, terror and exclusion. Educators must work to ensure that it is the former."
Regarding LGBTQ topics, the manual also tells teacher trainees that "[p]roviding support and encouragement for personal expression and nongendered play — that is, honoring children's ideas and choices with respect to gender roles and play — also teaches children acceptance and communicates their value within the classroom community."
The training manual also treats fostering a sense of pride in one's identity as normal.
"An affirmation of children's identities is critical because children derive a sense of pride, self-worth, and consistency from their social and cultural identities," it reads. "For example, including books that explore and celebrate different types of hair, different skin colors, and a range of abilities helps to shape a child's positive self-identity, contributing to feelings of belonging and fostering a sense of caring for others."
While Maiola's statement on behalf of the governor praised Cooper — who has earned high praise for her work in other educational positions she previously held — for placing "an increased focus on students in lower-performing areas" and being a "champion for computer science education in the state," it also condemned the concepts or ideas broached in the training manual.
"Governor Ivey strongly believes that woke concepts have no place at any level of education in the state of Alabama and should not be taking away from the overall mission of improving educational outcomes for students," Maiola said in the statement.
Cooper, who was elected to NAEYC's national governing board in 2022 and is in the midst of a four-year term, was quoted saying, in a statement on the NAEYC website, that the training manual "fully supports our practice in the field of early learning and care."
"Educators of children from birth to age 8 will use this information to learn applicable skills for teaching through developmentally appropriate practices that build brains during the critical first five years of life," the statement said.
But Ivey has asserted that even broaching such topics is unacceptable, according to the news website AL.com.
"The education of Alabama's children is my top priority as governor, and there is absolutely no room to distract or take away from this mission," Ivey said in a statement. "Let me be crystal clear: Woke concepts that have zero to do with a proper education and that are divisive at the core have no place in Alabama classrooms at any age level, let alone with our youngest learners."
Ivey, no friend to the LGBTQ community, is the latest Republican official — following the lead of other governors and a host of Republican state legislators throughout the country — to lash out against "wokeness," a vaguely-defined, catch-all term that generally refers to promoting the visibility or acceptance of marginalized groups or singling out a person's identity based on personal characteristics ranging from race to religion to sexual orientation.
NAEYC released a statement to AL.com defending the teacher training manual's content.
"For nearly four decades, and in partnership with hundreds of thousands of families and educators, Developmentally Appropriate Practice has served as the foundation for high-quality early childhood education across all states and communities," the organization said.
"While not a curriculum, it is a responsive, educator-developed, educator-informed, and research-based resource that has been honed over multiple generations to support teachers in helping all children thrive and reach their full potential.
"Building on the good work that is happening in states and communities, NAEYC looks forward to continuing its partnership with families, educators, and policymakers to further our shared goals of offering joyful learning environments that see, support, and reflect all children and their families."