The Big Picture
Robin Williams was a beloved and unforgettable presence at the Academy Awards, leaving the crowd in stitches with his improv skills and comedic genius.
Williams had a successful career in both comedy and drama, earning multiple Oscar nominations and winning Best Supporting Actor for his role in Good Will Hunting.
Williams' performances at the Oscars showcased his versatility, as he effortlessly incorporated topical humor, celebrity impressions, and even performed a song from South Park, consistently delighting the audience with his unpredictable and hilarious routines.
Few artists and creative figures share the same unmistakable presence and electric show-stopping prowess as the late great Robin Williams. He imprinted his mark on television with Mork & Mindy, was revered for his stand-up, and gifted us with a number of excellent comedic and dramatic performances in films such as Mrs. Doubtfire, Good Will Hunting, Dead Poets Society, The World According to Garp, The Birdcage, and Aladdin. One place that Williams consistently shined the brightest, however, was at the Academy Awards. As a presenter and award recipient, the improv-savvy star left the crowd catching their breath from laughter and smiling from the warmth and humility of this bonafide endearing spirit. It takes a special person to be able to crack jokes about celebrities and still be beloved.
Robin Williams Earned an Oscar for 'Good Will Hunting'
Emerging into the public sphere with his leading role on the Happy Days spin-off, Mork & Mindy, Williams soon evolved as a perennial movie star of comedies, dramas, or a hybrid of both. The pinnacle of his versatile acting abilities in Good Morning, Vietnam garnered him his first Oscar nomination. He then followed with two more nominations for Best Actor for his performances in Dead Poets Society and The Fisher King. With the guidance of director Gus Van Sant and a wondrous script by Matt Damon and Ben Affleck, Williams finally won an Academy Award for Good Will Hunting in his turn as the wise, but melancholic therapist, Sean Maguire. Williams' Oscar victory and additional three nominations are not his only impact on the prestigious awards body. Through the '90s and 2000s, he frequently presented awards to incoming winners.
Williams' charisma and fiery unpredictable routines were concisely packaged on the stage on the most glamorous night in Hollywood. Still, a thriving enterprise and one of the rare monoculture events today, the Oscars have negative connotations. Audiences conjure numerous dream scenarios of how the awards body and telecast can be improved, yet they continue to let us down in some form or fashion, whether it is their dismissal of genres of film, pacing of the broadcast, or comedy bits that overstay their welcome. In retrospect, Williams' thunderous appearances on the Oscar stage are a throwback to a different era where movie stars reined supreme and when the Oscars were sincerely the grandest event on television.
Robin Williams Shows Off His Impressions & Pokes Fun at Celebrities
Despite his extravagant and maximalist act, Robin Williams requires limited gimmicks to work with to produce comedy gold. Take, for example, his presentation of Best Supporting Actress at the Oscars in 1999. Williams, who won a Supporting Actor Oscar the year prior, would grant the honor this year to Judi Dench for the Best Picture-winning Shakespeare in Love. Immediately when host Whoopi Goldberg introduces him and the curtains open, Williams is in complete command of the building. From his long suit coat to his peculiar walk and bow towards Goldberg and the crowd, not every joke or mannerism is accompanied by a rhyme or reason, but that does not mitigate the pure hilarity that he brings.
In just over a minute, the comedian-turned-actor squeezes in topical humor ("brought to you by Viagra"), jabs at celebrity figures ("Guns and Moses"–referring to Charlton Heston's outspoken role as President of the NRA and portrayal of the religious icon in The Ten Commandments, and "The Artist Formerly Known as 'Prince of Egypt,'" referencing Prince's stage name change), and celebrity impressions ("you know the drill" in the voice of Sylvester Stallone before reading the nominees). Similar to Dench's extremely brief screen time in Shakespeare in Love amounting to an Oscar, you couldn't have asked more from an entertainer in this brief window of time. "In case there is an emergency, we have to follow Academy protocol, Steven Spielberg first, the rest of you…on you're own," remarks Williams, as the director was later crowned Best Director for Saving Private Ryan that night.
Williams Performs a 'South Park' Song and Uses Billy Crystal as a Puppet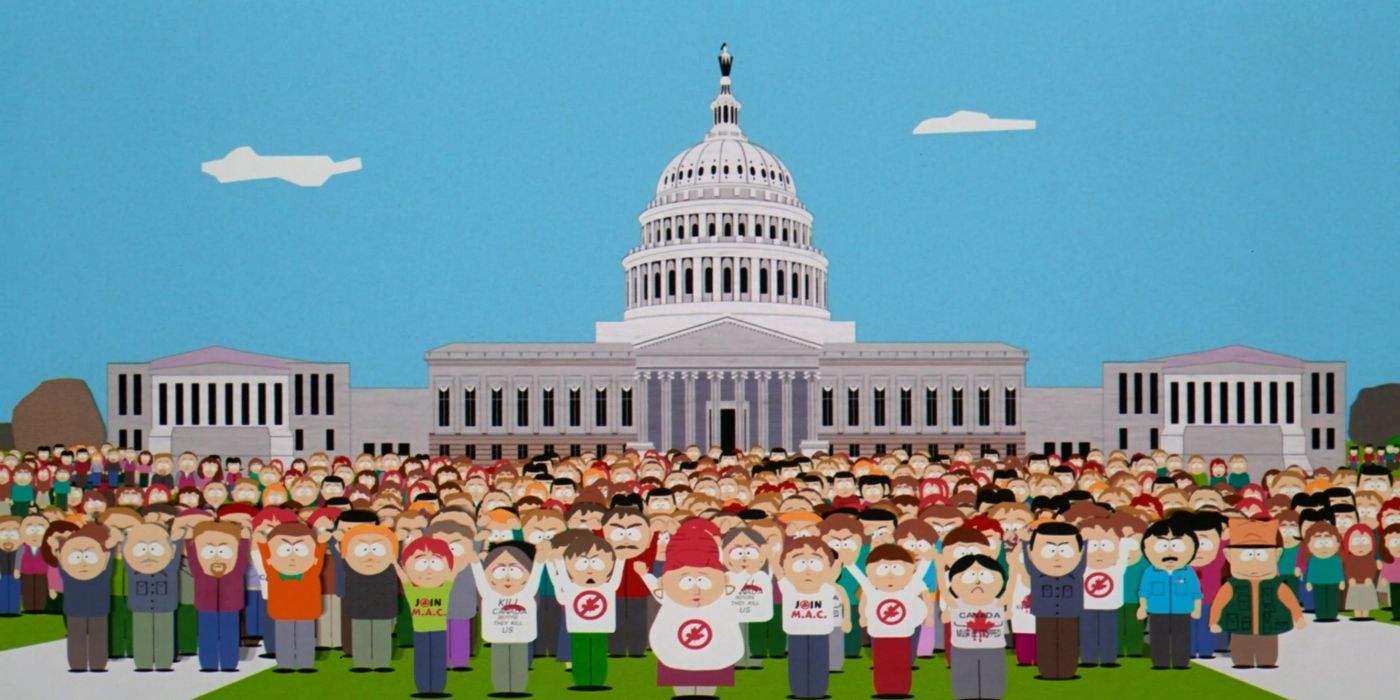 A year later, when "Blame Canada" from South Park: Bigger, Longer & Uncut was stunningly nominated for Best Original Song, there was only one person who could match the shock value and unbridled humor of the source material. In tradition with the nominees presenting a live rendition of the song, Williams performed the satirical tune written by Trey Parker and Matt Stone. An Academy Award-winning actor performing a tune, accompanied by choreographed dancers mocking South Park's critics for their reaction to the show's insensitivity in front of a crowd of the most elite figures in the industry was surreal, to say the least. "Blame Canada" lost to Phil Collins' wholesome "You'll Be in My Heart" from Disney's Tarzan, much to Parker's chagrin.
At the Oscars held in 2004, Williams teamed up with mainstay host Billy Crystal to partake in a memorable bit. As presenter of Best Animated Feature, which was awarded to Finding Nemo, Crystal posed as a ventriloquist dummy, with Williams standing right behind him proverbially pulling the strings and speaking in a cartoonish Spanish accent. When Williams emerges and breaks character, Crystal remarks, pointing at the actor, "Ladies and gentlemen, this is the reason for our five-second delay." Seemingly oblivious to the pressure of appearing on pop culture's biggest stage, Williams sprinkled in various gags, from a French accent to a risqué joke about homosexuality (he grabs Crystal's hand and announces to the crowd, "Look at us, a San Francisco wedding cake!"). This is a hilarious contrast to the milquetoast Oscars broadcast that strives for cordiality. Even as the ceremony is attempting to shift into formal mode with the reading of the nominees, he refuses to drop his quirky affectations. Only he could flavor ripping an envelope with such random and confident humor.
RELATED: This 'SNL' Cast Member Was Terrified of Being Upstaged by Robin Williams
Robin Williams' Sincerest Moments at the Oscars Are the Most Emotional
As expected, Robin Williams was at his most earnest in his heartwarming acceptance speech for winning Best Supporting Actor at the 1998 ceremony. Up against heavy hitters including Burt Reynolds, Anthony Hopkins, Greg Kinnear, and Robert Forster, Williams was due for this honor, as he had proven his chops as a dramatic actor. While applause and standing ovations are standard at the Oscars, the reverence and admiration that the crowd gives Williams once his name is called by presenter Mira Sorvino is overwhelming (with Reynolds being the only person who looks like they'd rather be home lying in bed). Damon and Affleck cheer him on as if he were their teammate hitting a walk-off home run.
This instance is the rare occasion of Williams being swallowed by the moment, as he remarks "This might be the one time I'm speechless." Williams' humility and sincerity are rarely seen when he is improvising off the cuff. Of course, Williams would have to undergo a body swap to ever let a humorous opportunity pass. "Thank you, Ben and Matt, I still want to see some I.D." he jokes. The actor, as well as any viewer, gets choked up when he thanks his wife and late father, saluting to him up at the sky. Closing his brief but resounding speech with a witty remark, "Just have a backup profession, like welding," speaking as his father when informed of his son's acting aspirations.
This retrospective examination of Robin Williams' storied history with the Academy Awards only deepens the tragedy of his passing. All signs indicate that the actor/comedian was a genuinely divine individual. The heartfelt graciousness expressed in his acceptance speech signals that his inclusion in dramatic roles was never derived from stunt casting. Along with conveying his warmth and humanism on screen, for films of all genres and intended audiences, Williams could make even the most uppity audience in the Academy Awards laugh their hearts out.
Announcement