This post explains how to become an Amazon Products Tester in 3 super easy ways. If you love sharing your opinion about the products you purchase on Amazon, Product Testing can be a good side hustle.
A Products Tester is a person who tests products on Amazon and provides honest and unbiased reviews. These reviews help consumers learn more about brands and products before making a purchase. They also help retailers enhance their reputation and build trust among clients.
Sellers at Amazon are always looking for high-profile reviewers who can provide accurate reviews of their products. Testers not only get free or discounted products in exchange for their services but can also get paid if they consistently test products on Amazon and post detailed and helpful reviews. In this post, we will show you how to become an Amazon Products Tester and earn exciting rewards.
Become Amazon Products Tester in 3 super easy ways
Becoming a Product Tester is one of the best ways to grab some freebies or discounted products on Amazon. Here are 3 super easy ways to test products on Amazon while giving reviews afterward:
1] Be part of Amazon Vine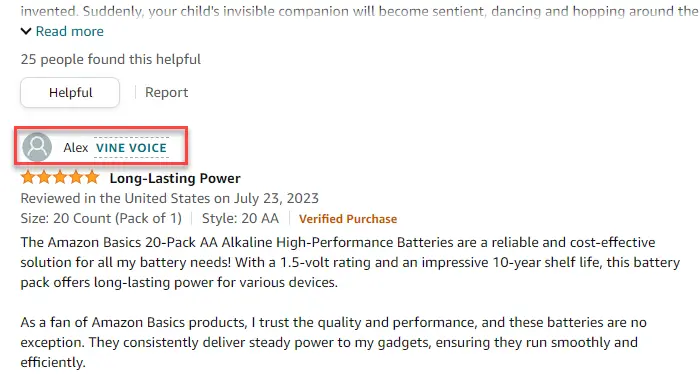 Amazon Vine is an invite-only program where Amazon sends reviewers (also referred to as Vine Voices) products from third-party sellers for testing and review. This is the most legitimate product review program for becoming an official Amazon Products Tester. However, to get invited to review products through Amazon Vine, you need to build a rank first.
Your rank is determined by the quantity and quality of reviews you have posted and improves as you get more 'helpful' likes. Based on the reviewer's rank, Amazon recruits testers from its pool of Vine Voices. If you're consistent with reviewing your Amazon purchases, there are good chances that you get an invite to join the Vine program. Once you become a Vine Voice, you can post reviews – both positive and negative – without having any impact on your ranking.
Amazon Vine doesn't pay you for writing the reviews. But most of the products are either new or pre-releases, so you're sure to get free stuff in exchange for your genuine reviews.
Note: Amazon Vine is part of Amazon Associates – an affiliate marketing program that allows content creators to earn commissions by referring customers to product listings on Amazon.
2] Join Amazon Reviewer websites
There are many third-party Amazon Reviewer platforms that give you discounted or free products for written reviews. These platforms are popular because they make it easier for vendors to get feedback on their products that are listed for sale on Amazon.
Vipon: Vipon offers members exclusive discounts (which may go up to 100%) for products sold on Amazon. Testers can choose from available deals and click on a listing to get the coupon code. Vipon then redirects the testers to the product page on Amazon, from where they can make the purchase. The discounts are being offered by the sellers themselves in an effort to encourage customers to buy the products and leave positive feedback. Please note that while it is not mandatory to leave a review on Vipon, it can get you discounts on your purchases and help build your reviewer rank.
Rebaid: Rebaid is another website that connects sellers on Amazon (and other e-commerce websites in the United States) with product testers. It offers cashback rebates of up to 100% on promoted products. Testers can choose products from a range of categories on Rebaid and then follow the offer steps to make purchases on Amazon. After completing the purchase, testers can return to Rebaid to submit their rebate. They receive payments through direct deposit or mailed cheques within 7-10 days post confirmation of their rebate amounts. Rebaid also offers discount codes which can be entered directly while making a purchase on Amazon.
Snagshout: Snagshout is another website to get discounted products for testing and review. It gets you the best deals, great discounts, and cashback on your Amazon purchases. Snagshout works similarly to other Amazon Reviewer platforms except that it pays via PayPal. It opens up great opportunities for testers to become high-profile reviewers and get invited to the Amazon Vine program.
Note: These independent websites, as opposed to Amazon Vine, are more vulnerable to fraud because they are not controlled by Amazon. There are many such websites, so be sure to carefully research each one's policy in order to select the one that is most suitable for you.
3] Become an Influencer
If you want to get paid for reviewing products, you should build your profile as an influencer. An influencer is someone who has built credibility and a steady fan base in a particular field. Brand endorsement by influencers has a significant impact as people trust their opinions.
Businesses often look for Influencers who have a huge fan following. Set up a blog/vlog and increase your social media presence. It requires a lot of hard work to gain genuine fans, but once you manage to do it, sellers will likely approach you to endorse their products. They might even pay you for positive reviews and product recommendations.
Apart from being an independent Influencer, you can join the Amazon Influencer Program. It gives you access to more marketing tools, such as having a personal storefront, shoppable photos (photos with links to Amazon listings), and live-stream shopping. Amazon Influencers earn commissions based on clicks and purchases made through their affiliate links.
That's it! I hope you find this useful.
Also Read: How to find an Amazon seller profile by name.
Can you actually be an Amazon product tester?
Yes. It is possible (and quite easy) to be an Amazon Product Tester if you love sharing your opinion about products or services with other consumers on Amazon. Make it a habit to leave a genuine and unbiased review for all your Amazon purchases. Being consistent with writing reviews can get you a good Reviewer Rank, which will eventually increase your chances of becoming a Vine Voice (Amazon's official product tester)
Is Amazon Basics tester a real job?
Amazon Basics Tester is a job scam used by cybercriminals to target innocent people looking for work-from-home opportunities. Scammers create fake social media accounts or fraudulent websites that claim to offer well-paid product testing jobs at Amazon. However, they redirect victims to various spam and survey websites or collect their personal information (including credit card details) to commit identity theft.
Read Next: How to stop Amazon ads from stalking you around the web.