Hasshan Batts Named Speaker for Muhlenberg College's Fall Commencement
Batts, a faculty member in Muhlenberg's Graduate Certificate of Diversity, Equity, Inclusion and Belonging (DEIB) Program and an accomplished author, scholar and community leader, will address graduates of the Muhlenberg College Schools of Graduate and Continuing Education at the ceremony on Saturday, October 14.

By:



Shane Baglini



 Monday, September 18, 2023 10:30 AM
Muhlenberg College's 2023 Fall Commencement will be held Saturday, October 14, at 2 p.m. in Egner Chapel on Muhlenberg's campus. Graduates will celebrate with their guests at the in-person event, and the ceremony will be streamed to the public and archived for later viewing.
This year's speaker is Hasshan Batts, D.H.Sc. Batts currently serves Allentown and the surrounding areas in his role as executive director at Promise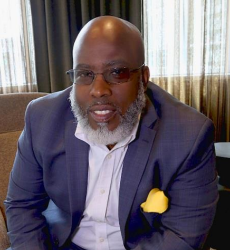 Neighborhoods of the Lehigh Valley (PNLV). As a health-care and community development consultant, he has invested over 20 years to become a leading expert in trauma-informed care, restorative practices and reentry. As a practitioner, Batts has helped countless individuals, families and organizations address issues, including equity, program development and strategic planning. Batts is also a sought-after subject matter expert, sharing his methodologies on trauma-informed care and community engagement with hundreds of health-care professionals and administrators.
In addition to being a faculty member in Muhlenberg's Graduate Certificate of Diversity, Equity, Inclusion and Belonging (DEIB) Program, Batts is a Fulbright Specialist (2022-2025), a Rider-Pool Collective Impact Fellow alum and a distinguished Robert Wood Johnson Culture of Health Leader alum. Batts has been appointed by two governors as a Pennsylvania commissioner on African American affairs, as well as co-chair of the governor's Public Safety and Gun Violence Commission. He was appointed by previous Governor Tom Wolf as a thought leader and trauma-informed care expert to the Adult Behavioral Health Commission.
Batts holds a joint master's in social work from North Carolina A&T and The University of North Carolina Greensboro, a postgraduate certificate in global health, a doctorate in health sciences from Nova Southeastern University and a strategic perspective in nonprofit management certificate from Harvard Business School.